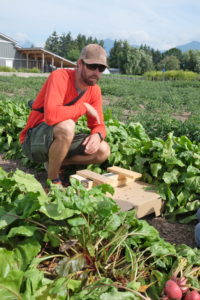 Chris Thoreau holds a BSc. (Hons.) in Agroecology from the University of British Columbia (UBC) where his focus was on soils, urban farming, and plant breeding. Currently working on expanding the viability of urban farming in Vancouver, he has worked on uniting these areas of study to help increase the sustainability of urban food production.
Chris is an owner-member at Vancouver Food Pedalers Cooperative, an urban farming business focused on growing sunflower shoots and other soil-grown microgreens for local markets, restaurants and growers.  Now in it's sixth year, the business is a profitable and respected contribution to the local food chain.  The Food Pedalers distribute all their food by bicycle. The Food Pedalers is currently Chris's major project.
Prior to his time in Vancouver, Chris operated Influence Organics – a small Certified Organic farm on Vancouver Island.  Here he utilized no-till soil management techniques in conjunction with permaculture principles to grow a variety of food for local markets, restaurants, and CSAs.  He simultaneously spent six years volunteering and working with the Victoria Compost Education Centre as the on-site gardener, while also developing and teaching workshops for the public.
During his time in Victoria, Chris also contributed to other community initiatives. He spent two years on the IOPA board of directors and as a member of the IOPAcertification committee.  He has also sat on the board of the Moss Street Market and the Society for Organic Urban Land Care. He has helped organize and host a number of community events including workshops, conferences, and farm tours. Chris is also an IOIA trained organic inspector.
In Vancouver over the past seven years, Chris has embedded himself in the local food movement. He has sat on the Food Policy Council as urban farming liaison since late 2010 and was instrumental in the development of the Vancouver Urban Farming Society. He worked with others to host the first two urban farming forums in Vancouver as well as facilitating dialogue with the City of Vancouver to address gaps in policy relating to urban farming. As a result of the second annual Urban Farming Forum the City of Vancouver has adopted all the recommendations put forward by urban farmers; these recommendations can be found in the 2013 Vancouver Food Strategy.
Chris has focused on a number of key areas which have contributed his success as an urban farmer:

Systems
Chris takes a very systematic approach to his microgreens production system. Every step of the production process is broken down into a very specific system which makes the production process simple, efficient, and easy for training.

Attention to Detail
No detail is too small or insignificant to be overlooked in a production system with a seven to ten day growing cycle. Even half day of error can make the difference between a perfect and an unharvestable crop. Attention to detail is also required to  maintain the integrity of your product from seed to sale. This includes meticulous hygiene, harvesting, packing, and distribution processes.

Execute, Follow Through, and Follow Up
Planning is one thing and execution is another. Planning without execution is the path to failure in an agricultural operation. Planning is a means to an end – not an end in itself. It must lead to action. And those actions must be executed fully and followed up on to ensure they are producing the desired results. Once gaps are identified they must be corrected promptly.